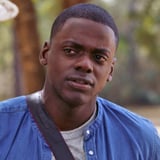 Image Source: Universal Pictures
In October, we got introduced to a terrifying new horror movie by Jordan Peele. It's called Get Out, and the creepy trailer is enough on its own to turn you off of white suburbia for good. But there's something else. The more time we spent watching the trailer and looking forward to the film, the more we began to feel like star Daniel Kaluuya looked very, very familiar. And then, it clicked!
Kaluuya actually appears in the first season of Black Mirror. He stars in the second episode, called "Fifteen Million Merits." The story tells of a futuristic dystopian society that revolves around 24-hour TV and the shallow entertainment of reality shows. In this world, civilians must cycle to power the society, earning a kind of currency known as Merits. We don't want to give too much away, but you might argue that it's a different kind of horror than Kaluuya experiences in his new film.
Additionally, you may recognize Kaluuya from his recurring roles on Skins, Psychoville, The Fades, and Babylon. On the movie side, he's been in Kick-Ass 2 and Sicario, and he recently joined the cast of Marvel's Black Panther! Now you know. And now you can get that much more excited to see Get Out when it hits theaters on Feb. 24.

Source: Pop Sugar