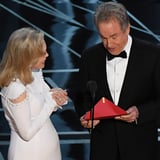 Biggest #Oscars mix up of all time? Watch the full play-by-play: pic.twitter.com/RT2zGiR798

– Hollywood Reporter (@THR) February 27, 2017
On Sunday night the Oscars ended with an unexpectedly shocking bang when best picture presenters Warren Beatty and Faye Dunaway somehow announced the wrong winner, La La Land, instead of the true victor, Moonlight. As you can see in the video above, the cast and production team of La La Land were on stage making their emotional acceptance speeches for a solid two minutes before producer Jordan Horowitz finally took the mic to announce that their film had not won. "Guys, I'm sorry, no, there's a mistake," he said. "Moonlight, you guys won best picture. This is not a joke. Moonlight has won best picture." He then held up the real envelope with the winner inside for the cameras, which clearly read Moonlight.
Although Beatty has been getting the brunt of the blame for reading the wrong name, Dunaway is actually the one who announces La La Land. On top of that, it's obvious that he realized they didn't have the right envelope as soon as he opened it (zoomed-in photos show the envelope was embossed with the words 'best actress in a leading role'), which is why he paused and Dunaway revealed the "winner" instead. "I opened the envelope and it said 'Emma Stone, La La Land,'" he explained to the audience while the Moonlight team made their way up to the stage. "That's why I took such a long pause and looked at Faye, and at you. I wasn't trying to be funny." The accounting firm that oversees Oscars votes, PricewaterhouseCoopers, has since released a statement regarding the incident, which will no doubt live on in infamy as one of the most insane Oscars moments ever.

Source: Pop Sugar