The Tool This Comedian Uses to Bring People Together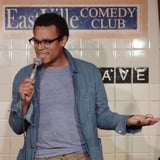 Writing good comedy is hard. Beyond grappling with stage fright and memorizing your material, there's an entirely new challenge built around your audience. How well do you know them? Will you be able to make them laugh?
On Knock Knock, Rachel Antonoff's new series from POPSUGAR and Watchable, New York-based actor and comedian Jordan Carlos talks about how he uses comedy to bring people together. He spends a lot of time prepping – sometimes a minute of comedy can take him days and weeks to complete – and sticks with benign topics.
"If you talk about the most basic things that are universal, then we can have a great hour together," he explains to Rachel. "What I try to do is give people an escape, so I'll be like, 'let's talk about animals.'" What exactly does he say about animals? It walks the line, so you'll have to watch the clip to find out. His approach, however, is universally appealing.

Source: Pop Sugar