The 1 Other Time in Oscars History When the Wrong Winner Was Called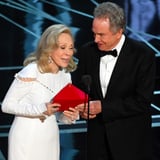 The biggest story to come out of the Oscars this year is undoubtedly the fact that presenters Warren Beatty and Faye Dunaway called out the wrong best picture winner. Initially they said La La Land had won the honor, but the real winner was Moonlight. (Cue mortified producers scurrying around the stage.) As embarrassing as the whole fiasco was, it's not the first time it's happened at the Oscars. No, I'm not talking about the time Marisa Tomei was rumored not to have won in 1993. I'm going way back to the 1964 Oscars.
Sammy Davis Jr. was presenting the award for best music, scoring of music, adaptation or treatment. The nominees were Irma La Douce, Bye Bye Birdie, A New Kind of Love, Sundays and Cybele, and The Sword in the Stone. He opened the envelope and read off the name: John Addison for Tom Jones. Addison did win an Oscar that year, but it was for best music/score, substantially original. Irma La Douce's André Previn was the real winner.
In his defense, categories were way more confusing back then. Also, he was given the wrong envelope! Take a look:

Source: Pop Sugar