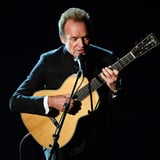 Watch @OfficialSting perform 'The Empty Chair' at the #Oscars. pic.twitter.com/WznAx2p2iY

– Hollywood Reporter (@THR) February 27, 2017
Sting popped up at the Oscars on Sunday night to give a stripped-down performance of his Oscar-nominated song, "The Empty Chair," from documentary Jim: The James Foley Story about the American journalist who was captured in Syria and became the first American citizen to be killed by ISIS. Not only was it one of the most somber performances of the night, but he also paid tribute to the late journalist at the end.

Source: Pop Sugar