Send Help, I Can't Stop Watching This Mesmerizing "Shape of You" Cover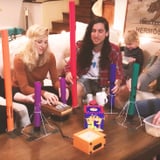 Think guitars are overrated? Boy, do I have the "Shape of You" cover for you! Walk Off the Earth is a five-member group that primarily works with things that aren't instruments to make beautiful music, and their new Ed Sheeran single is goddamn hypnotizing. It doesn't matter how many versions you've heard of this song – this one wins. (Says me, a Very Important Entertainment Reporting Person.) Before you watch this cover, I feel like it's important for you to know that I only saw it because Russell Crowe tweeted it. Yes, Gladiator Russell Crowe.
PSA: Watch until the end of the song. There's a surprise that involves a bowl of popcorn and the splits.

Source: Pop Sugar