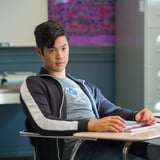 Image Source: Netflix
13 Reasons Why is Netflix's latest hit that was brought to the small screen with the help of Selena Gomez. While the singer was originally supposed to play Hannah Baker, she decided to step behind the scenes as an executive producer in order to give the story the attention it deserves. The decision couldn't have turned out better, as the show was brilliantly cast with some of the best acting from Hollywood newcomers we've seen in a long time.
While some faces are more familiar than others (you probably recognized Dylan Minnette), others only rang a small bell. One of Hannah's 13 reasons, Zach Dempsey, is the perfect example. The jock is played by actor Ross Butler, who has been in a handful of other recognizable shows. He played Brett on K.C. Undercover, was Nathan on Teen Wolf, and currently has the small but recurring role of Reggie on Riverdale (pictured below). Since it sounds like 13 Reasons Why will probably get a second season, we're hoping we'll get to see a lot more of Butler in the future.
Image Source: The CW

Source: Pop Sugar