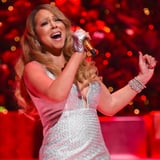 My song is becoming a movie! You're the first to hear about this exciting news! Follow @AllIWantMovie for more updates. #AllIWantMovie pic.twitter.com/vb1j75eGZk

– Mariah Carey (@MariahCarey) March 21, 2017
Yes, it's only March, but are you ready for a holiday surprise? Mariah Carey has announced that Universal is making her hit song "All I Want For Christmas Is You" into an animated film. Carey wrote a children's book inspired by the tune in 2015, but the movie will be based on the song lyrics alone. The singer announced the news via Twitter on Tuesday and even teased a short trailer for the film. We don't have an exact release date yet, just that it will come out during the holiday season this year. Take a look at the teaser above and the original (legendary) music video below!
TBA on whether classroom instruments will be involved.

Source: Pop Sugar