Kaitlyn Bristowe Reveals Why She Never Did DWTS: "I Wasn't Allowed"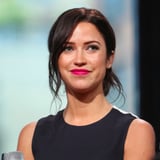 Former Bachelorette star Kaitlyn Bristowe is not happy with the show's creator Mike Fleiss. Amid news that her ex Nick Viall will be competing in the upcoming season of Dancing With the Stars, she recently spoke out on social media about why she never joined the dancing competition. It all started when Whitney Bischoff, who competed alongside Kaitlyn on Chris Soules's season of The Bachelor, asked, "Why does a bachelorette never get this gig @BachelorABC?!? I wanted to see [Kaitlyn Bristowe] shake her tail feather!" And that's when the tea started pouring. "Actually I was offered it, had the contract & Mike Fleiss told me I wasn't allowed," she responded. "He said he didn't want people wanting fame after his show."
This certainly comes as a shock, seeing that multiple stars from the Bachelor franchise have competed on the show, including Chris himself. Following Kaitlyn's tweet, Mike was quick to respond by tweeting, "[Kaitlyn Bristowe] has my total support if she wants to appear on DWTS!!! #TheBachelor." Of course, the drama didn't end there as Kaitlyn bluntly tweeted, "Thanks I'll get right on that opportunity 2 yrs ago. I wonder what changed your mind?" before posting a GIF of Kermit the Frog drinking tea.
Following the tweets, Kaitlyn released a statement to Entertainment Tonight explaining why she spoke out. "I believe men and women should be afforded the same opportunities," she said. "That has not been the case with The Bachelorettes and The Bachelors." Despite writing Mike numerous emails about why she wanted to do DWTS, she was still denied the opportunity. "I told Mike it was my passion. I was told Shawn should be my only passion. My hope in speaking out is that future Bachelorettes are given the same opportunity as Bachelors. Whether it be a wedding, to dance, or another show. Just to be treated the same, to choose whatever will make them happy."

Source: Pop Sugar