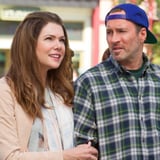 Gilmore Girls: A Year in the Life was supposed to be cut and dried. One season for Amy Sherman-Palladino to properly wrap up the series she started and for fans to get closure with their long-lost friends. Instead, those infamous Last Four Words opened new doors in a way that we didn't expect, and months after the episodes premiered, Netflix Chief Content Officer Ted Sarandos has finally commented on whether there will be more.
"We hope [there are more installments]," he told the UK's press association on March 4. "We obviously loved the success of the show, fans loved how well it was done, it delivered what they hoped . . . The worst thing is to wait a couple of years for your favorite show to come back and for it to disappoint you, but they sure delivered and people were really excited about more, and we have been talking to them about the possibility of that."
In case you forgot how the episodes wrapped up, Rory is pregnant. If this were a regular show, it would just be a cliffhanger until we find out who the father is next season – but it's not just a regular show anymore. Is it Logan's baby? A Wookiee child? At no point in the series did she seem to long for a child; did she enlist Paris's help to be a surrogate for Lorelai and Luke? Will this haunt us for the rest of our lives??
That certainly seems to be Sherman-Palladino's intention. Before the new episodes premiered on Netflix, she teased the ending to Entertainment Weekly. "We got the ending that weirdly was supposed to be the end of the series. They could've done something in season seven that would've changed our ending and that would've been OK, but they didn't . . . I knew it from the very beginning, I really did. And it was only because I knew where I wanted the show as a series to go."
Netflix currently has no plans for a second season of Gilmore Girls: A Year in the Life. But hey, that doesn't mean that it definitively won't happen. We'll keep you posted!

Source: Pop Sugar