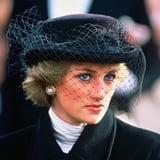 At the end of February, FX announced a second season of Feud, Ryan Murphy's latest anthology TV series. While the first season went for the Hollywood jugular and highlighted Bette Davis and Joan Crawford's infamous decades-long hatred for one another, the second season is taking a surprising turn and highlighting the crumbling marriage of Prince Charles and Princess Diana. In March, Ryan Murphy spoke to E! News and clarified his intentions for the season. "I was always very interested in that story of divorce and pain," Murphy explained. "I wanted to do a different kind of feud that's about broken hearts. And I think that's what that marriage was and that's what Charles and Diana is about."
Given the context of the quote, it seems like the struggles faced in season two will be much more internal than public. We decided to look back at Charles and Diana's relationship to figure out what moments may be highlighted over the course of the season.
1. The Wedding Nightmare
While the wedding was a public spectacle of its own, it wasn't until years later new information came to light in a biography. According to Vanity Fair, both Diana and Charles were not sure they could go through with the wedding. "I can't marry him, I can't do this, this is absolutely unbelievable," Diana said, while Charles was allegedly "desperate" and said, "I can't go through with it, I can't do it." This might mean we won't see much of the wedding at all, but rather we'll witness all the tension leading up to the big day.
2. The Affairs Behind Closed Doors
Here is another opportunity for Feud to capture what was going on privately, rather than what the world saw. The general public became well aware of Charles's affair with Camilla Parker Bowles in 1992 when a sexually explicit conversation was secretly recorded and published by the press. Will the series show Charles and Camilla in those conversations? Did Diana know? When did she find out? Were there more phone calls that we weren't privy to? Feud could give us a sense of how the couple handled everything on the inside.
3. Diana's Tell-All and the Horror Show at Home
After the monarchy publicly acknowledged the rift between Charles and Diana, both sides of the marriage gave two very different interviews. Charles cleared the air, so to speak, in 1994 with Jonathan Dimbleby, while Diana spoke with the BBC's Martin Bashir in a more candid tell-all chat. Here, we have a chance to examine everything that led up to these public moments. What went down between Queen Elizabeth II and Charles before this decision? How did he prepare himself for it? What happened that drove Diana to expose everything once and for all?
We have a long way to go until the 2018 premiere of Feud's royal season. With the British royal family shrouded so deeply in secrecy, though, it's clear there's plenty to explore and dig into to give us a compelling season.

Source: Pop Sugar