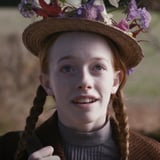 If you grew up reading Lucy Maud Montgomery's Anne of Green Gables novels, or watching one of the many made-for-TV movies, or going to see a stage production of the classic story, Netflix has exciting news! The streaming service turned production giant is rebooting the tale, and we have a premiere date and a trailer. But before we get to that, let's dive into the basic details of what you need to know before the show debuts!
The Story
Anne Shirley is a quirky, brilliant, 13-year-old orphan living on Prince Edward Island (that's a Canadian province just north of Nova Scotia, FYI) in the 1890s. When she's mistakenly sent to live with a brother and sister in their 60s, she winds up changing their lives and transforming their small town.
The Cast
Amybeth McNulty, who briefly appeared in the 2015 movie Morgan, scored the coveted role of Anne. Geraldine James (Rogue One: A Star Wars Story) and R.H. Thomson (Chloe) will be playing Marilla and Matthew Cuthbert.
The First Look
The Full Trailer
The Premiere Date
The eight-episode first season of Anne will appear on Netflix on May 12!

Source: Pop Sugar