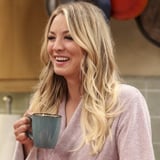 Image Source: CBS
It has begun! The exciting, sometimes heartbreaking, time of the year when TV shows are either given the green light for a new season or axed forever – until the reboot eventually gets underway in 2036. CBS has renewed The Big Bang Theory and 16 more shows, but we're still waiting to hear the fates of Elementary and Criminal Minds. Take a look to see what fates have been decided, and if the show you're looking for isn't on this list yet, check our 2016 scorecard.
What's Been Renewed
CBS
The Big Bang Theory: The hugely popular series will be back for at least two more seasons.
Blue Bloods: The family drama will return for season eight.
Hawaii Five-0: Season eight is on the way.
Life in Pieces: The 30-minute family comedy will be back for season three.
Madam Secretary: Another season of Tea Leoni's drama is coming.
Mom: Anna Faris and Allison Janney will return.
NCIS: Los Angeles: The spinoff will be back for season nine.
NCIS: New Orleans: Scott Bakula's spinoff is also returning.
Scorpion: The tech drama has earned a fourth season.
Bull: Season two is on the way!
Kevin Can Wait: CBS wants another season of Kevin James's sitcom.
MacGyver: The reboot lives to see another season.
Man With a Plan: Matt LaBlanc is a man with a job for another year.
Superior Donuts: The new series has gotten a second season.
Survivor: Lucky season 35 is on the way.
60 Minutes: Of course, the veteran news series will return.
48 Hours: The investigative show will also be back.
NBC
This Is Us: NBC has greenlit the show for seasons two and three.
The Good Place: We will be getting season two of Bell's comedy.
Superstore: The comedy will return for a third season.
ABC
Fox
The CW
The 100: The CW has renewed the series for a fifth season.
Riverdale: The Archie reboot was granted a second season.
Supergirl: The DC show was handed an early season three renewal.
The Flash: The speedster will return for a fourth season.
Arrow: Oliver and his merry band of vigilantes will come back for season six.
DC's Legends of Tomorrow: Season three is on the way.
Jane the Virgin: Jane will return for season four.
Crazy Ex-Girlfriend: The Golden Globe-winner is coming back for season three.
Supernatural: And finally, the Winchester brothers will be back for a 13th round.
Netflix
Stranger Things: The megahit will return on Halloween.
The OA: The sci-fi show will return for season two.
Love: Judd Apatow's romantic comedy series has scored a third season.
A Series of Unfortunate Events: The show will be back for a second season.
Showtime
Freeform
FX
Baskets: The comedy will be back with season three.
American Horror Story: The popular show has been renewed through season nine.
Taboo: FX and BBC have ordered a second season of Tom Hardy's dark drama.
HBO
Westworld: HBO's breakout hit has been renewed for a second season.
Divorce: Sarah Jessica Parker's NYC-set series will be back for season two.
Insecure: HBO has also renewed Issa Rae's comedy for season two.
Ballers: Dwayne Johnson's show will return for season three this Summer.
Curb Your Enthusiasm: Larry David has agreed to do a ninth season.
Crashing: Season two of Pete Holmes's comedy series is on the way.
Amazon
Mozart in the Jungle: Amazon has renewed its critical hit for season four.
Red Oaks: On the day day, Amazon announced that Red Oaks's third season will be its last.
AMC
SyFy
12 Monkeys: The time-travel series will return for a fourth and final season.
What's Been Cancelled
Image Source: Everett Collection
CBS
Disney Channel
IFC
OWN
Love Thy Neighbor: OWN has cancelled the Tyler Perry-produced show.
For Better or Worse: This show, also from Perry, is ending with its current season.

Source: Pop Sugar