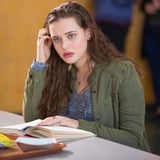 If you've immersed yourself into the deep, dark world that is 13 Reasons Why, you're probably craving all the information you can gather about the hit series. The show has hit a nerve with audiences, thanks to its brilliant cast and brutally honest storytelling, but there's so much that we didn't get to see on screen. We've searched all the nooks and crannies for the most interesting tidbits about the books, the cast, and the series itself. Here are 16 facts that make surprise you!
A lot of things happen differently in the book. If you've read Jay Asher's novel, you probably already know that Netflix made a handful of changes to the story. In the books, Clay listens to all the tapes in one night, Clay's parents are barely in the story, there isn't as much background about the other students, and that cliffhanger with Alex doesn't happen.
There's a reason they changed Hannah's method of suicide. While Hannah swallows a handful of pills in the book, she splits her wrists in the bathtub on the show. According to creator Brian Yorkey, they made this alteration with a specific goal in mind: "We worked very hard not to be gratuitous, but we did want it to be painful to watch because we wanted to be very clear that there is nothing, in any way, worthwhile about suicide."
Originally, Hannah was going to survive in the book. Author Asher revealed that he considered that Hannah could survive her suicide attempt. Because in the books she swallows pills, he thought about having her parents take her to the hospital where she could get her stomach pumped. "Once I realized that, the message of the story would be stronger [if she died] and that it would definitely be more of a cautionary tale. I felt that was definitely the way to go."
Katherine Langford was cast over Skype. "I didn't get to see anyone or be super involved in the casting process, but I think Selena and everyone who chose to cast us was so elated," Langford told us. "Particularly for me, I had never done anything before. I got a call saying they wanted me, but we only had 10 days to get an O-1 visa."
The crew brought in puppies to help the cast during emotional scenes. "I know there was one scene, I wasn't around, but they had therapy dogs on set," said Dylan Minnette. "There was a puppy per hour. They really tried to help out. The puppies helped."
Five of the show's stars have been on Grey's Anatomy. While you probably know that Kate Walsh was a regular on Grey's Anatomy (and had her own spinoff, Private Practice, you may not realize that Mark Pellegrino (aka Alex's dad), Wilson Cruz (Dennis), Ajiona Alexus (Sheri), and Dylan Minnette (Clay) have all appeared on ABC's medical drama.
Google Maps caught the crew shooting the show. At some point during the filming of 13 Reasons Why, Google Maps took a picture in front of Clay's house (a real home in San Rafael, CA). Dylan Minnette appears to be in front of the house, flashing peace signs at the camera!
Minnette helped with the soundtrack. "I had a dialogue with [the creator] from the get-go about what songs should be on the soundtrack," he said. "I love that he was so open and it was very much a collaboration. There are so many artists on the soundtrack that I'm so proud of. And Clay's room is filled with posters of my favorite bands. There are other artists that I would love to have in there, but they aren't artists that I feel Clay would listen to. You'll see there are a couple Arcade Fire posters, Bon Iver, The Cure, The Shins, and some other cool things. I wanted to make sure it all felt very real, and I wanted the vibe to be appropriate."
Clay and Hannah have the same poster in their bedrooms. If you look closely, you'll see that a poster for the indie rock group Arcade Fire is up in both their rooms, a detail that Langford called "kind of cute."
The show changes visually after Hannah's death. Scenes from before Hannah dies are bright and colorful, while scenes after her suicide appear washed out and dark. It's an easy trick to decipher whether something is happening before or after the death.
Most of the actors are in their 20s. The majority of the main characters are in high school, but the actors who play them are almost exclusively in their 20s. The exception is Devin Druid (aka Tyler), who is 19. The oldest "teen" is Ross Butler (aka Zach), who is 26.
The guy who plays Ryan is related to a Bachelorette. In real life, actor Tommy Dorfman is Andi Dorfman's cousin! She memorably starred on season 10 of The Bachelorette.
Selena Gomez has a very personal tie to the show. Aside from serving as an executive producer, Gomez had another reason she wanted the series to be as authentic as possible: she has issues with anxiety, panic attacks, and depression. "I was actually going through a really difficult time when they started production," she told reporters at a press event in February. "I went away for 90 days and I actually met tons of kids in this place that we're talking about [with] a lot of the issues that these characters are experiencing."
The cast didn't meet Gomez until the final day of shooting. Langford told the Hollywood Reporter that the she met Gomez right after the 2016 American Music Awards. "She had just flown out from the AMAs, where she did that incredible speech and she said something about, 'The people that know me, what they know about me is that I care about people.' And that sums up Selena in a very truthful way."
Gomez and two members of the the cast got matching tattoos. Gomez, Dorfman, Alisha Boe (Jessica), and Brandon Flynn (Justin) got tattoos together in support of Project Semicolon, a nonprofit focused on suicide prevention.
Langford was stoked to play an American teen. "This may just be me, but I feel like everyone's dream is to live as an American high school student," the Australian actress told us. "There are so many teen films set in America that you live vicariously through them, anyway. But it was totally different. I got to experience Halloween, and prom, and cheerleaders . . . And the Fourth of July! It was crazy."

Source: Pop Sugar